CELERYS MOBILE
CELERYS MOBILE provides a various measurement tools using smartphones or tablets with live visualization and analysis.
The tool is highly suitable for QoE measurement for both outdoors and very dense indoor areas.
CELERYS MOBILE is the best solution for QoE VOICE & DATA evaluation. It supports 2G, 3G, 4G and WIFI networks and it can be used for multi-operators benchmark.
CELERYS MOBILE is supported on latest android-based regular terminals.
With a unique test scenario for Voice and DATA, the QoE of the following services can be evaluated:
Voice Calls
DATA Connection delay (related do PDP context activation)
Ping (round-trip time)
FTP Dowload
FTP Upload
HTTP
Streaming and VoD
All parameters of the services (servers, timeout, login and passwords...) can be configured individually.
The user can choose the network to e evaluated. It can be dual mode or individually 2G, 3G, 4G or WIFI networks.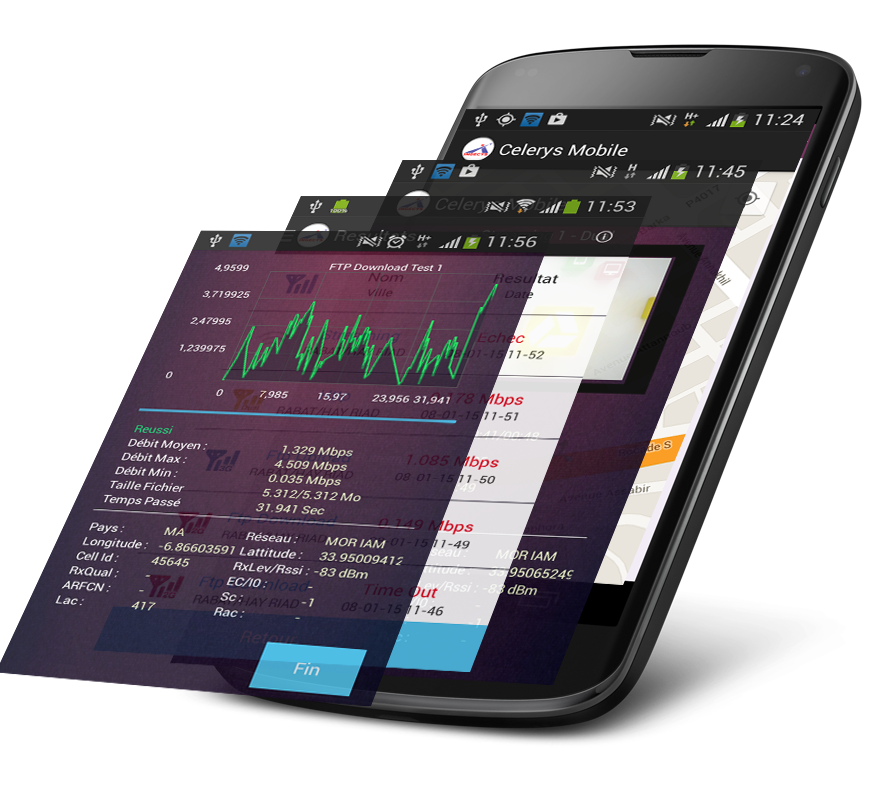 STRENGTHS
Ergonomic interface
Real QoE evaluation using regular mobile phones with advanced features: measurement scenarios configuration, network forcing option, background running capabilities
Measurement details visualization: minimum/maximum/average throughput, streaming buffering delays and video stops numbers...
RF and location information visualization
Site database loading and indication of the serving cell on the map
Mapping features: site database visualization, serving cell identification
Various network QoE Evaluation: WIFI, 2G, 3G/3G+, 4G/4G+
Mobile synchronization for benchmark measurements (up to 6 synchronized mobiles)
Remote scripting: measurement configuration, automatic and periodic measurement management
Real time visualization, analysis and reporting (using CELERYS ANALYZE)
Measurements history visualization
Easy to use in multiple environments: outdoor, indoor, incar, in-train
Measurement logfiles export to CSV file
Store and late upload of measurement data (in case of data network unavailability)